Health
Ghana News
World
United States Of America Sends A Message To Ghanaians After Corona Virus Cases Rise
The United States Embassy In Ghana has sent a message to every Ghanaian as a results of the Novel corona Virus Pandemic that has risen high in the country.
The Embassy has been compelled to postpone some scheduled visa appointments.
According to them, due to the sudden conditions the virus has presented, they have no other alternative than to postpone visa appointments.
They have however said that, they deeply regret any difficulties that the postponement will bring to Ghanaians who wish to travel to the US.
However, They added that they will continue to operate with the greatest consideration for the health of their staffs and applicants.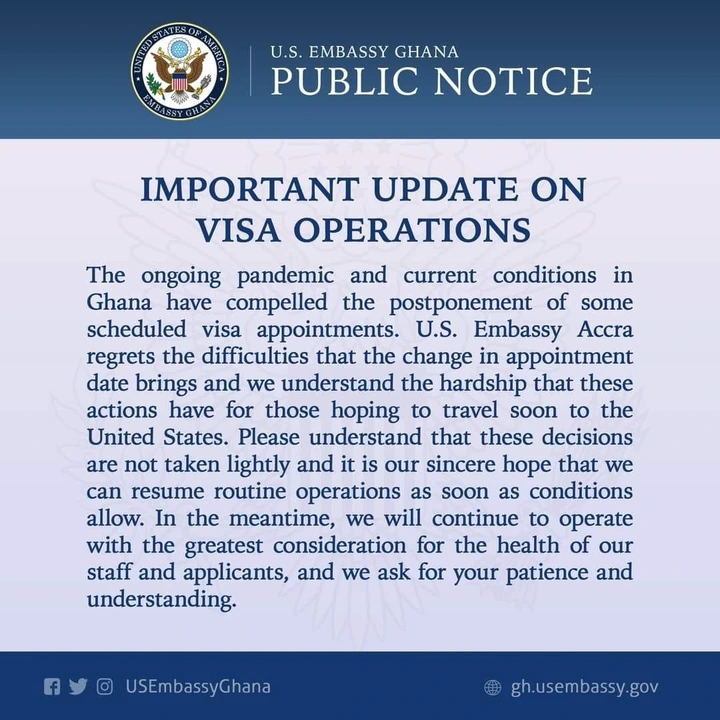 The finally thanked Ghanaians for their patience and understanding.
The image of the printed message is presented Above.
Ghanaians should keep adhering to the safety protocols because that is the only way that things can return back to normal.
We should stay in doors when we have no place going because that's the best thing to do in other to curb the spread of the virus.
source: Daily Graphic