On Saturday afternoon, May 1, 2021, a total of four (4) fully armed robbers were arrested by the Ashanti Regional Police Command after they were intercepted by the police on their way to Kumasi to engage in armed robbery.
According to the police, these criminals were traveling with a taxi with registration number 2515 -17 GH and they were dressed in soldiers camouflage. Speaking to a UTV news reporter, the police also revealed that these robbers had a chunk of ammunitions in the vehicle they were traveling with.
The suspects include Simon Kwao of 27 years of age, Daniel Amoako of 29 years, Kwame Forson aged 31 and Philip Gabi also aged 27 years. They were found with AK-47 machine guns (about three of them) and four pistols ( having sets of bullets).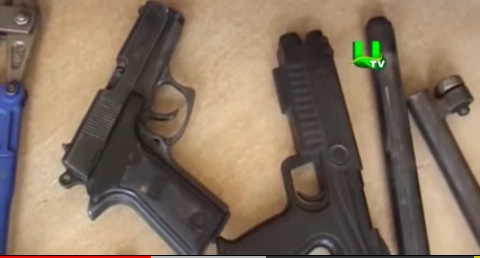 Speaking to UTV, the police said that at the time of their arrest, they tried to grab some of the guns so they can shoot at the police. They however, resorted to the use of the uniform they were wearing to disguise themselves as soldiers.
Upon series of interrogations and investigations, the police finally discovered that they were having bullets in-between the sits at the front. They then searched the car and discovered a number of unregistered guns, marijuana (popularly known in Ghana as Wee or Indian Hemp) among other things.
They were arrested straightway by the police. The police cautions the general public to beware of these armed robbers who sometimes disguise themselves as soldiers and other people they are really not. Inform the police if you notice an unusual thing about people such as these for immediate security measures to be taken.