Latest News
Lifestyle
Painful Story Of The Lady Who Was Killed And Buried After She Traveled To Seek For A Job
Lady Who Was Killed And Buried After She Traveled To Seek For A Job
Death is the only price that every living Creature must pay, either at a tender age or at an old age. It is a known fact that death is inevitable, it is a visitor that never announces when it is going to visit it's victim, it just happens and the pain it causes the family it strikes is unbearable. Know it today that no matter your level in the Society, how famous, influential or popularity you might have attained in life, you just surely bow down to Nature. But the manner at which some people die nowadays is very painful. Some people are being killed on daily basis, and this is one the worst scenario to ever happen in our Generation. In spite of all this, our solemn prayer has always been that none of us shall die Prematurely.
The death has been announced of the Young Lady who was declared missing, after she told her friend that she will be traveling to seek for a job. But the painful story surrounding her death was that she was probably killed by the same people, who invited her a job interview.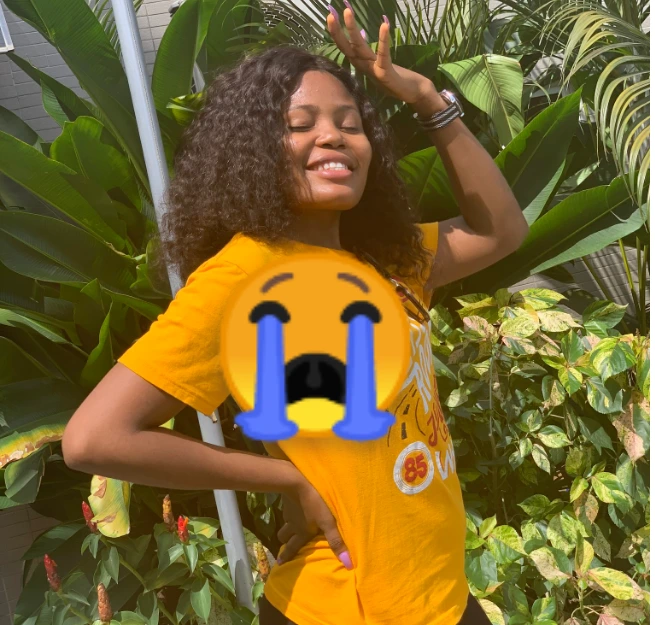 According to the information gathered, the lady whose name was given as "Iniobong", was declared missing by her friend three days ago, but she was allegedly found dead and buried few hours ago.
It was recalled that miss "Umoh Uduak" took to her Twitter handle to raise alarm over the sudden disappearance of her friend, after she traveled to seek for a job in "Akwa Ibom" "(Nigeria)".
Furthermore, the deceased (Iniobong) was reported to have been invited for an interview to an unknown destination on Thursday, 29th April 2021. "Uduak" added that her late friend made a distress call to her, and she heard her screaming before the call was ended abruptly.
However, "Umoh Uduak" who was aggravated by the situation, raised alarm with the hashtag "#findhinyhumoren" on her social media accounts, after several attempts she made to reach out to "Iniobong" proved abortive.
Meanwhile, "Uduak" later took to her Twitter handle to post that her friend, "Iniobong" (Huby Humoren) has been found dead and buried.
"They killed my friend and buried her", "Umoh Uduak" twitted.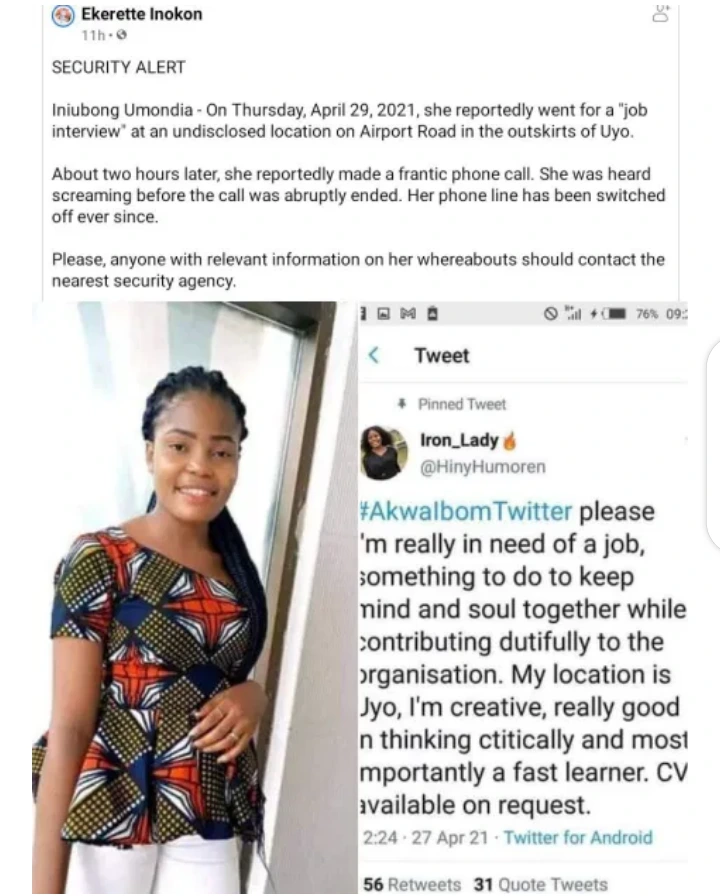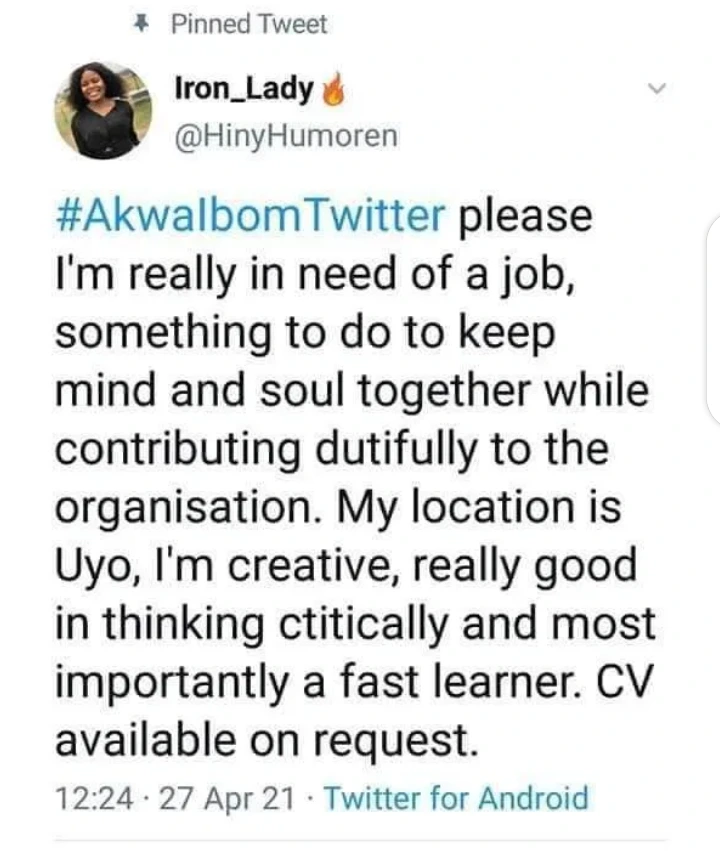 May her Gentle Soul rest in Peace. And may GOD avenge her death.
Feel free to share this article, and leave a word of advice on the comment Box Below for our ladies.