News
Social media reacts to Morgan Freeman's speech at Qatar 2022 World Cup opening ceremony
On Sunday, November 20, a spectacular pregame show with a visually striking opening ceremony took place at the Al-Bayt Stadium in Al Khor.
The no-expense-spared opening ceremony was laid on for those in the stadium and everyone else watching around the globe.
The ceremony was also in line with the opening match of the 2022 World Cup in Qatar.
South Korean BTS pop star Jung Kook sang Dreamers, the tournament song, alongside Qatari singer Fahad Al Kubaisi at the stadium in Al Khor.
With just under 90 minutes until the opening match of the tournament, Hollywood legend Morgan Freeman took the center stage with Qatari Youtuber Ghanim Al Muftah to send a heartfelt message narrating a video about football's ability to unite.
The Oscar-winning actor narrated the opening segment titled 'The Calling' and said 'We all gather here in one big tribe'.
"Football spans the world, unites nations in their love of the beautiful game. What brings together nations, brings together communities," Freeman announced. 
"There is a common thread of hope, jubilation and respect."
In light of this, some fans of the Oscar-Winning actor took to social media to praise him for his touching message.
The best thing I have heard so far in this World Cup is that speech by Morgan Freeman and Al Muftah. "…..So, we gather here as one big tribe and the Earth is the tent we all live in," Freeman concluded.

— Rodney TM (@rodneymagodi) November 21, 2022
If you ever listened to any of Morgan Freeman speeches in your sleep, you'd walk up to church the next day and claim you've heard from an Angel in-person. What a soothing voice! Legend! pic.twitter.com/vPxbcgPcg2

— FPL Dr. Linkin F🅱️F 🇩🇪🇬🇭🇳🇬 (@bob8146) November 21, 2022
A strong message by Morgan Freeman, if we can be in peace for the game why can't we do the same when it's over. pic.twitter.com/Bq8cj2MDVw

— winning mentality ❇️💫 (@deenayaah) November 21, 2022
Appreciation Tweet for Morgan Freeman and the way he spoke at the Opening Ceremony, there is power is his voice 🔥🔥🔥🔥🔥❤️#QatarWorldCup2022 pic.twitter.com/W63UdaBbX8

— trey 〽️ (@honest_papito) November 20, 2022
Morgan Freeman gave me the most heart-warming moment ever in my experience with @FIFAWorldCup opening ceremony. He did not only understand the assignment but he hit us so deep! I didn't know what to do; I broke down to tears! pic.twitter.com/KS4t9IK2Fg

— Ziga_Lya_Mese (@_huza_) November 21, 2022
This disability inclusion is the icing on the cake of the #FIFAWorldCup opening ceremony. Watching this Qatari recite the verse about human diversity from Surah Al-Hujurat, in response to Morgan Freeman's appeal for the unity of all tribes, gave me goosebumps. Take a bow, Qatar! pic.twitter.com/2b3o1wJC0v

— Ba' Shaba (@gimbakakanda) November 20, 2022
#QatarWorldCup2022 Opening Ceremony

This is the most beautiful, charismatic and heart warming world cup opening ceremony ever #FIFAWorldCup
Morgan Freeman pic.twitter.com/bcEavXnewx

— Shehu Zubair (@shazy____) November 20, 2022
Morgan Freeman is that actor everyone loves. He's the GOAT of Hollywood. pic.twitter.com/i0kNeYQheA

— Dr King Winter (@I_Am_Winter) November 20, 2022
Grandpa Morgan Freeman for you. Psalm 82:6 I have said, Ye are gods; and all of you are children of the most High. Amen. You Nailed It as Said. God increase your age more for generations to learn. pic.twitter.com/HdPpsiO7Uj

— KINGDOM KOFI NYAVOR (@KK_NYAVOR) November 21, 2022
Meanwhile, others have criticised the Hollywood icon, saying he's a 'sellout' with 'blood on his hands' after accepting Qatari cash to front the opening ceremony of the 2022 World Cup.
His surprise appearance in Doha comes 12 years after he fluffed his lines while attempting to help the USA's bid to host the 2022 tournament.
On social media, fans called him a 'Qatari sleeper agent', reminiscing on his infamous speech in 2010, where he caused huge embarrassment for the USA's bid team by messing up his speech and telling the crowd: 'I'm sorry, I missed a page'. 
Wouldn't have guessed Morgan Freeman would tie his name to this. Money talks. #FIFAWorldCup

— Felix Rodrigues Lima (@FelixReports) November 20, 2022
They must have gotten Morgan Freeman a load of cash, too. Sportwashing runs deep.

— David Niederbaumer (@DNiederbaumer) November 20, 2022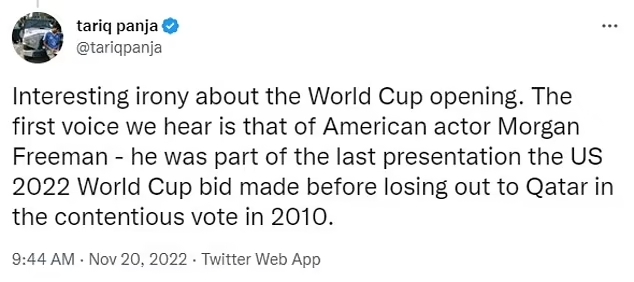 For a man who played Nelson Mandela – who knew better than anyone the impact & importance of isolation on a country & its success on the ground to change that nation's policy – it is so disappointing to see #MorganFreeman take the money & support an oppressive regime😥 #Gutted

— Gary Webster (@RealGaryWebster) November 20, 2022
DISCLAIMER: The Views, Comments, Opinions, Contributions and Statements made by Readers and Contributors on this platform do not necessarily represent the views or policy of Multimedia Group Limited.